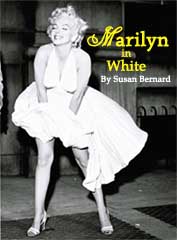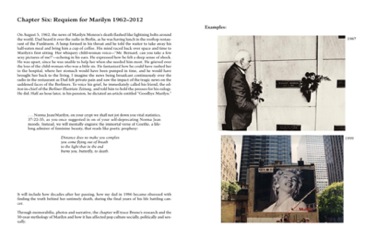 Marilyn in White
50 Years of Enduring Beauty


The year 2012 is the 50th anniversary of Marilyn Monroe's untimely death. This book will celebrate the enduring beauty of Marilyn Monroe through sixty-eight black and white and color photographic images by the legendary photographer Bruno Bernard, professionally known as Bernard of Hollywood. His photograph of Marilyn standing over the subway grate in her billowing white dress is internationally synonymous with Hollywood, and is the iconic image of this extraordinary beauty. This image is the book's metaphor.

The images will cover crucial moments throughout Marilyn's fascinating life—from her first professional sitting when Bruno discovered her in 1946, which got Norma Jean her first motion picture contract with Fox, to 1954 on the day she announced her divorce to Joe DiMaggio.

A person of note as yet unnamed will write the foreword, and author Susan Bernard, Bruno Bernard's daughter, will write a two-page introduction on the relevance of Marilyn and the image of her billowing skirt, which is symbolic of and idolizes the postwar working class woman who dared to step out of the kitchen.

Susan Bernard will be the narrative voice and Bruno Bernard's own words will come alive from his journal entries—threads weaving their way through the photographs. The interplay between the man behind the camera and his subject, and the highs and lows of a close friendship is captured through Bruno's lense.