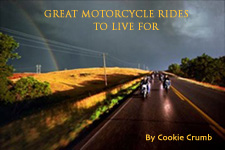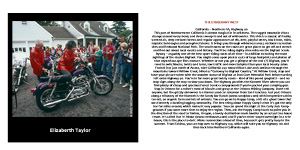 Great Motorcycle Rides to Live For
One Woman's Guide to the Lure of the Ride


Great Motorcycle Rides to Live For is an eclectic collection of rides especially designed for motorcyclists. Every chapter features an adventure that begins by placing readers in the saddles of their bikes and preparing them for what lies ahead. After establishing a sense of each particular place, pointing out geological or historical information about the area, claims to fame and other details, the chapter continues to describe the route itself, including the roads, the twists and turns, danger spots, lookout points, must-see sights, final destination options. Each chapter includes personal reflections such as, "After all those miles, your butt may be numb, but your brain sure isn't!" Great Motorcycle Rides to Live For is all about the ride. The ride is sexy, like driving through a Georgia O'Keefe painting. You are one with the machine. You are love on a motorcycle. Your body is the engine, your body is the fuel. We rule our gears and mirrors and chrome. We swallow the horizon.